Empower staff and control spending
Go paperless and capture expenses as they happen. Smarter budget allocation with set rules, more accurate tracking and a streamlined expense management process.
Eliminate the hassle of card sharing
Better equip staff with instantly available individual cards and allocated funds. Provide greater flexibility and autonomy to purchase.
Improve budget management
With rules coded directly into cards you gain control of budget spending across individuals, teams and departments.
Stop chasing
receipts
Capture receipts instantly on mobile. Save time manually processing reimbursements, and track spending in real-time.
Take control of business expenses
Automating everything saves time, money and stress. Say goodbye to manual data-entry. Your finance team will love it.
How it works
Budget, spend, capture, classify and sync in real-time. Flexible, automated, hassle-free expense accounting.
Undefined spending impacts productivity and puts strain on reactive finance


…is tedious and time-consuming.
No more reimbursements
to any employee


…automation saves time and resources.
Accelerate and improve expensing for your finance team. Make life easier for employees while in Australia or travelling overseas.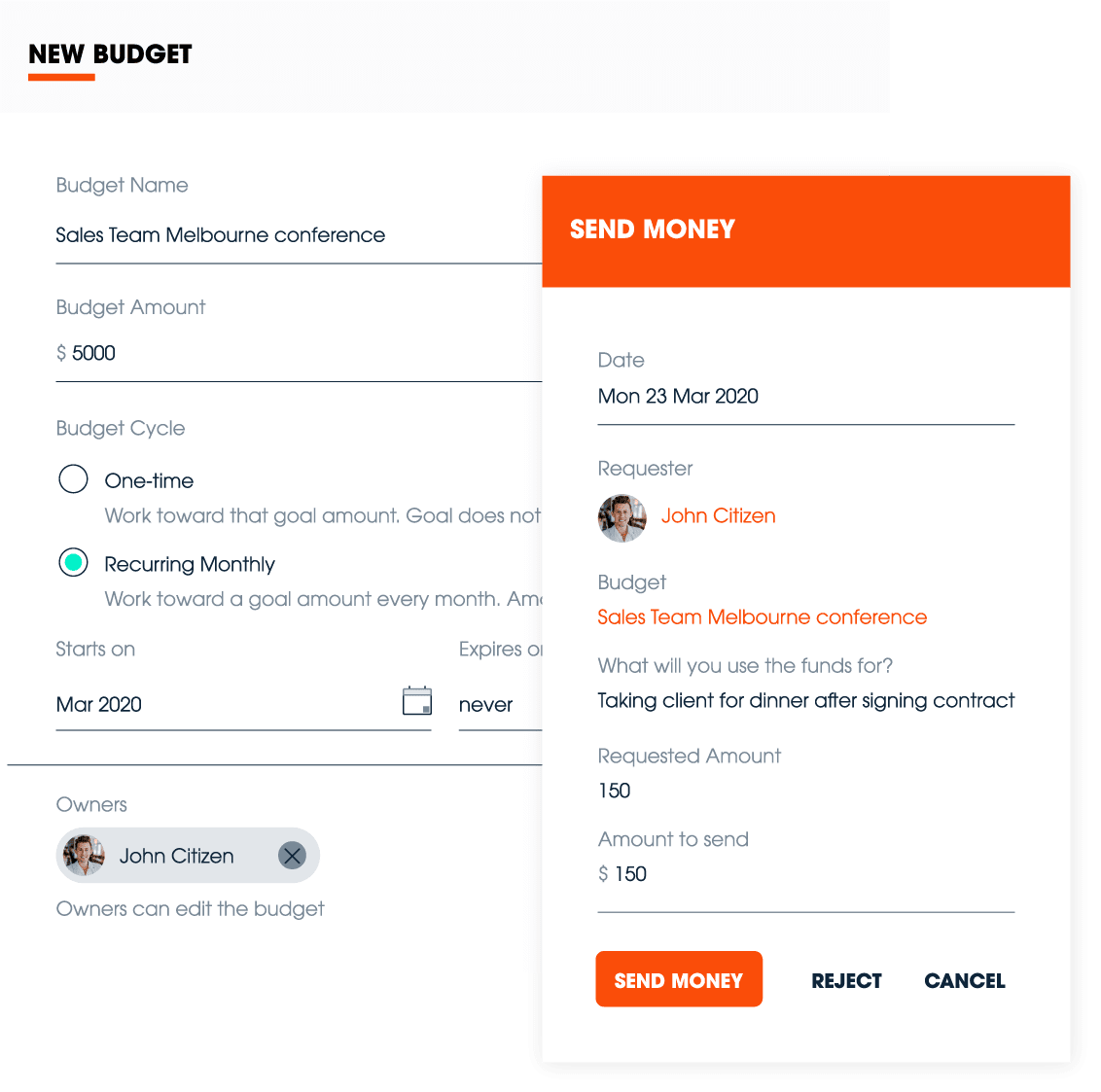 Expense
Budgetly's expense platform provides company-wide convenience, transparency and accountability.
Get started now with…
Budgeting
Card issuing
Multi-currency and FX
Mobile receipt capturing
Xero integration.
Travel
We're just getting started with useful, performance driven features…
Our goal is to scale and adapt to our customers needs by providing innovative features that make the most impact to your business. Our current roadmap includes;
Hotels
Flights
Ground Transport
Meals
Per diem budgeting.
Pricing
Budgetly aims to provide Australian SMEs with technology usually only affordable by larger enterprises for a fraction of the cost.
Starts at $89 per month
Includes all features:
Budget and spending controls
Prepaid cards
On-the-spot receipt capture
Accounting software integration
Virtual cards & Plastic cards
Mobile app
No limit:
Unlimited users
Unlimited budgets
Unlimited payments
Unlimited support
$10
flat monthly rate per card
free for Accountants
Read what our delighted customers have to say
"Using Budgetly, it takes us about half an hour a week to do our reconciliation for weekly transactions, and maybe an hour at the end of the month to upload those transactions all into our financial software."
Adam Shnider, Head of Finance
Carer Solutions
"I would recommend Budgetly to other businesses. If you don't try it, you're probably not seeing the operational problems you already have."
Dale Simmich, Chief Administrator
ActsCare Group
"We ended up going from 60 missing receipts in a month to just four, one month after implementation. Budgetly has also helped us set spending rules for employees so that teams don't go over budget."
Ashana, Senior Finance Manager
Manning Support Services
"I can now set a cap on my spending. For example, previously, staff would tell me that they would spend $400 on equipment, but now I can set how much they should spend on equipment, making it more transparent for staff and reducing the risk of overspending. So that's handy."
Judy O'Leary, Director
Hillsborough OOSH
"The number one reason I went with Budgetly was because of how quick and easy it was to get the prepaid corporate card."
Simon Mendelawitz, CEO
JOOB Travel Company
"It's very easy to use with great automation. Budgetly saves our team significant time, allowing them to focus on driving more value to the business."
Kevin Fisher, COO/CFO
Rezdy
"We chose Budgetly because their software is easy to use and cost-effective. I'd definitely recommend Budgetly to other NDIS service providers."
Ravi Bhatt
Sunrise2Sunrise Community Care
Budgetly features and benefits
CFO's are using Budgetly's next-gen expense platform to stay ahead of their competitors, in control and on top of their game while empowering team members.
No more shared cards
Issue plastic and virtual VISA cards as they are needed.
Goodbye to reimbursements
Your finance team will be thrilled. No need to call or email users for expense receipts.
Simplifies bookkeeping
Eliminates expense reports and tedious tasks for your finance team.
Manage subscriptions and memberships
Virtual Visa cards for each subscription or specific vendor give you the ability to disable cards and subscriptions at any time.
Flexible spending within budget every time
Users can request money at any time from their mobile. Budget owners have the capability to make funds available to users instantly. Spending rules and vendor restrictions ensure your teams stay within project budget or employee entitlements limits.
Visibility to plan and adapt
Expense tracking shows budget spend status in real-time so you can identify and address any concerns or potential shortfalls before they become a problem.
Sync with Accounting software
Eliminate double-handling to streamline and speed up your account process. You no longer have to manually enter receipt information into Xero.
Guaranteed Receipts
Notifications prompt users to submit receipts at the time of purchase. Remove the hassle of storing crumpled receipts in an envelope or digging receipts out from emails at the end of each month.
Fast and accurate
Transactions are automatically authorised or declined at the time of sale. Spend amount, GST, merchant and category details are submitted instantly.
Protect employee and company data
Two factor authentication security and 256 bit encryption protects personal and financial information. Safely utilise higher transaction limits than traditional credit cards immediately.
Reduce risk of fraud
Track payments in real-time wherever you are to identify any suspicious purchases. Easily disable any compromised cards and instantly issue a replacement.
Improve company policy compliance
Set rules encoded into cards ensures company policies are aligned and enforced.
Our Business
As former CEO of a fast-growing international business, our founder experienced first hand the need for a solution to take the hassle, frustration and time out of expense accounting tasks.
The first solution of its kind built in Australia, Budgetly challenges dated, still largely manual, methods of expense and travel spend management with the latest technology.
Our Customers
Fatigued by traditional expense accounting, our customers are looking to acquire pro-active solutions that improve productivity and show leadership in taking their business operations to the next level.
Easy-to-use features that provide autonomy to employees, while leadership retains control, drive high adoption company-wide. Quick onboarding and local support makes it simple to get started.
Innovative technology
Employee card and virtual card technology is booming across Europe and in the US. Keeping up with this fast-growing category aboard, Budgetly is here to disrupt the way Australian businesses manage expense and travel spending.
In developing a next-gen technology platform we aim to deliver mobility and improved financial visibility to SMEs here at home.
Travellers at heart
Experience and passion drives us to do more. Budgetly's founder has built a travel technology platform that is used by 3,500 SMEs, processing over $1.5B of bookings per year… so we've learnt a few very valuable things about travel along the way.